Jade tries to renew her health app subscription, but the transaction fails again for the third time. She slightly pushes her laptop to the side, sighs and lays on the bed facing up. There's sufficient funds in her account and so she wonders the cause of the failed payments.
As she lies wondering, Jade remembers the new health app, Dinma, her friend had suggested. She decides to give it a try.
Voila! The transaction succeeds and she's now subscribed to the new health app.
Jade's story shows how businesses lose customers to their competition due to failed online payments.
Research by Finance Magnates shows that 62% of customers who experience a failed online transaction will not try again on the same website. Not when they've got options, your competitors.
It's important to note that even smart businesses that use payment automation software, still have a record of failed transactions. And so it's necessary to guard against churn by tracking and setting strategies to recover failed online payments.
"Why do online payments fail?" is a valid question, but we can take it a step further by knowing "how to recover these failed payments". And in this piece, I'll cover both angles.
As a business owner who runs a recurring or one-time payment business model, you'll want to stay through this convo.
Why Do Online Payments Fail?
Payments fail for various reasons, either from the customer end or the financial institutions. Either way, it hits differently for the merchant as it leads to a breach in customer trust, involuntary churn, and revenue loss. Here are some reasons why payments fail.
1. Customer Error
A payment failure can happen from the customer's end when a customer inputs the wrong card detail like incorrect CVC, PIN number, and card digit.
2. Insufficient Funds
Insufficient funds is when a customer does not have enough money to complete a transaction. In this case, a payment failure is bound to occur.
3. Card Expiration
Payments fail when a customer uses an expired card to make a transaction. Sometimes, customers are oblivious to the fact that their cards have passed the expiration date and need renewal.
4. Network Error
In this case, a payment fails when the customer's bank (issuing bank) is experiencing downtime with their servers and so transactions at this point may fail. Sometimes, customer cards can be charged even when payment has not been collected by the merchant's bank (acquiring bank). This leads to a chargeback request where, the customer lays a complaint asking the merchant for a refund (in the case where the money reflects in the merchant's account), or visits their bank or card issuer.
5. Security Breach
Bank institutions and third-party financial services like Paystack and Flutterwave (payment service providers) ensure the safety of customer funds. Restrictions may be placed on customers' accounts if there's suspicion of fraudulent activities, thereby causing payment failures. Activities like inputting incorrect card details over the given limit, and processing more than the account holder's regular spending pattern may be classified as fraudulent;
In some cases, the transactions are legal, but due to safety rules placed on customer accounts, payment service providers may flag the transaction as suspicious. This is not out of place as e-commerce companies lost about $ 41 billion in 2022 and this figure is expected to reach $ 48 billion in 2023.
Where an account transaction is flagged as suspicious, the account holder will have to visit their financial institution to clarify and resolve payment issues.
6. Transaction Limit
If a customer exceeds their bank withdrawal limit and tries to make another payment transaction with that account, payment failure will occur.
7. Payment Processor Error
Although this rarely happens, payment processors experience downtime whereby businesses using their services are unable to process transactions during this period.
How Failed Online Payment Impacts Recurring Revenue
Payment failures are a horror whether they're one-time or recurring losses. For subscription businesses whose revenue pipeline is dependent on recurring payments, failed payments is bad business. It hinders business and revenue growth which is evident over time in its negative impact on monthly and annual recurring revenue- the expected monthly/annual profit in a subscription business.
A recurring business model gives businesses an opportunity to keep winning their customers' trust and loyalty, over the months and years with great product offerings and infallible customer experience.
However, a bad payment experience is valid reason for involuntary churn- an unwilful end of a customer relationship with the business. A situation where a customer tries to renew his subscription but the transaction fails can cause involuntary churn. It's not mere facts. The state of subscription business report by PYMNTS, carried out on over 200 subscription-based business decision-makers revealed that:
50% share of customer churn in subscription-based business is an involuntary churn caused by failed payments and,
An estimated $278 million loss of revenue in the subscription business industry over the past 12 months was as a result of failed payment, as of January 2023 when the research was published.
As crippling as payment failure is, only 9.1% share of these subscription businesses view payment recovery rates as an important metric to track.
The same report shows that top performers in the subscription industry who track failed payments and customer lifetime value, recover 61% of the failed payments as compared to a 49% recovery rate for their counterparts who don't track failed payments. A significant 12% difference. Imagine consistently losing 12% of your revenue.

Surely, you see the need to recover failed payments.
How to Recover Failed Online Payments
An important way to increase customer retention as a subscription and e-commerce business owner is to have a system that prevents, discovers, and recovers failed online payments. Below, I share how to recover failed online payments.
1. Build Better Customer Relationships
Humans respond to care. I bet you're most likely to respond to the friend who looks out for you rather than the one who only calls when they need your help. Attempting to recover failed payments from a customer who has not had the best experience with your product is the same.
Building a great relationship with your customers is a good way to stay atop their minds and gain their trust and loyalty. Engage them with good customer service, personalized offerings, and a great product experience, and if a payment failure happens, they'll be willing to stick around longer till you resolve the issue.
2. Automated Retries
Like the name, automated retries allow payment automation collection systems to try billing the customer's card again. Usually, after a short period of time, based on payment rules set by the business. With automated retries, the rate at which businesses lose out on sales greatly reduces. It also restores the connection between your businesses and your customers.
3. Customer Messaging
When a payment fails, it is best practice to reach out to your customer to let them know why the payment failed. Many businesses fail at this, customers get a decline message and are left to figure out why their payments failed. In this situation, customers are bound to drop off and look for alternative solutions. Messaging customers when payments fail gives businesses an opportunity to empathize with their customers and seize the moment to ask them to try making payments again, maybe with a different payment method.
4. Timely Reminders
Customer messaging also works even before a payment fails. Subscription businesses can sort customers whose subscription is due for renewal and send them a reminder to renew their subscription. Typically, this message is sent before (say 3 days) the renewal date and has a high chance of helping businesses prevent failed payments.
When sending messages like this, be human. As good as automated emails are, people still want a human touch.
Here's a sample payment reminder mail.
"Let's Stay Friends!
Hi Jola, your subscription will be due for renewal on the 4th of April and we'd like to stay friends. 🤗
To keep enjoying the xyz app, please renew your subscription. If you'd like to upgrade to a higher plan, kindly click on the link below and follow the instructions.
Thank you for sticking with us."
When you add a human touch to your emails, users feel connected rather than feel bugged.
Prevent & Recover Failed Online Payments with Bunce
Some businesses try to recover failed payments manually through calls or emails.
While this is good and offers the opportunity to engage customers one on one, it can be time-consuming and stressful.
Bunce helps businesses automate payment collections and recover failed online payments while maintaining a human touch throughout the process. Here's how;
When you log in to Bunce, you connect your payment provider, email, and sms provider API keys, or use Bunce as your default email & sms provider. This information will help you to set up payment events that trigger based on conditions set, one of which is in the event of a payment failure.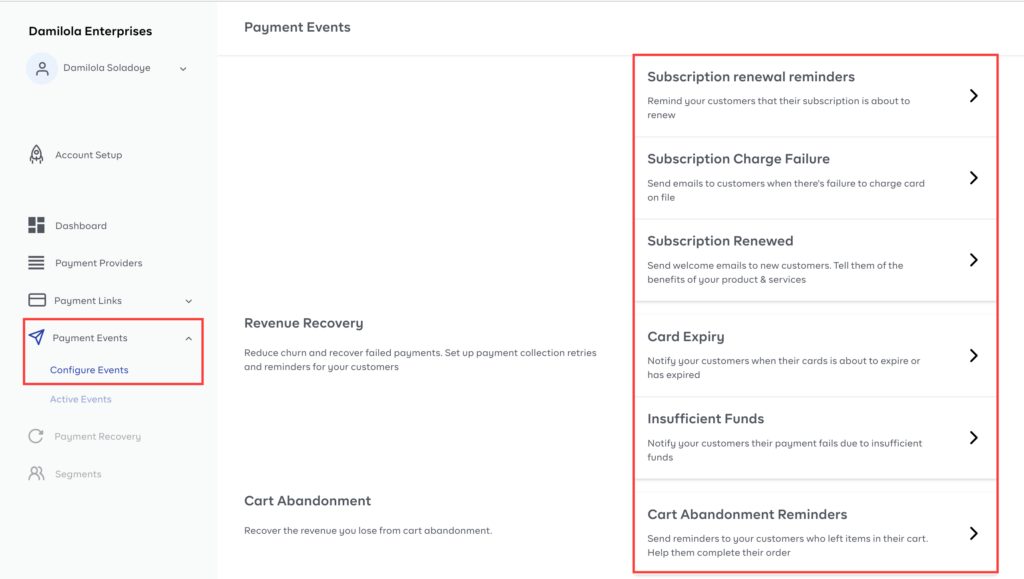 An action in response to a payment failure could be to
Retry billing the customer's card after a short period of time or
Send a message to customers in their preferred channel, (Email, Whatsapp, in-app notification) informing them of a payment failure and the reason, for it. In the case of an email, customers' inboxes are monitored to know when an email is opened, if not, the customer detail is transferred to customer service for follow-up.
Segment customers based on past payment behaviours or card types. This allows you to better monitor and discover any failure point and prevent it on time.
Bunce offers solutions on how to resolve this payment failure in the case where it is from the customer's end.
For recurring payments, Bunce helps to track and segment customers due for subscription or membership payment renewals and targets these customers with a personalized message to take the required action.
In the case of customer cards about to expire, Bunce sends reminders to customers to renew their cards before their subscription deadline or update new card details to enable them to renew their subscriptions.
With Bunce, you can discover, prevent, and recover failed payments, for one-time and recurring payments.